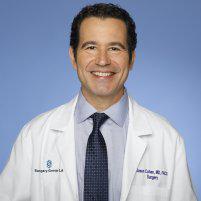 Jason S. Cohen, MD, FACS

General & Advanced Laparoscopic Surgeon located in Beverly Grove, Los Angeles, CA
Dr. Jason S. Cohen always appreciates feedback from his valued patients. To date, we're thrilled to have collected 6 reviews with an average rating of 5 out of 5 stars. Please read what others are saying about Dr. Jason Cohen below, and as always, we would love to collect your feedback.
Jim G.
Submitted 05/18/20

Dr. Cohen is a true caretaker. I always feel heard at my Visits with him. When he asks me how I am doing. He really wants to know how I am. And he is not only a great Doctor, he creates beautiful art work. Check out the wall in the examination room next time.
Kevin G.
Submitted 05/18/20

Dr. Cohen is just a wonderful and great doctor! He clearly communicates everything you need to know and addresses all questions is the most informative way!
Miriam N.

Submitted 05/14/20

Unbelievable help and service that was provided for me from Dr. Cohen and all his staff I haven't experienced anywhere else. Thanks a lot, Dr. Cohen and all staff.
Harriet W.
Submitted 05/12/20

Always pleasant, even with not-so-welcome news, but hopeful. Dr. Cohen is warm, encouraging, kind, and I'm grateful that he's my surgeon.
Daniel S.
Submitted 05/12/20

Prompt, Efficient and a Good Attitude. Dr. Cohen is all of that.
Teresita D.

Submitted 05/12/20

great. Good, efficient, nice, awesome, knowledgeable in his work, friendly and handsome